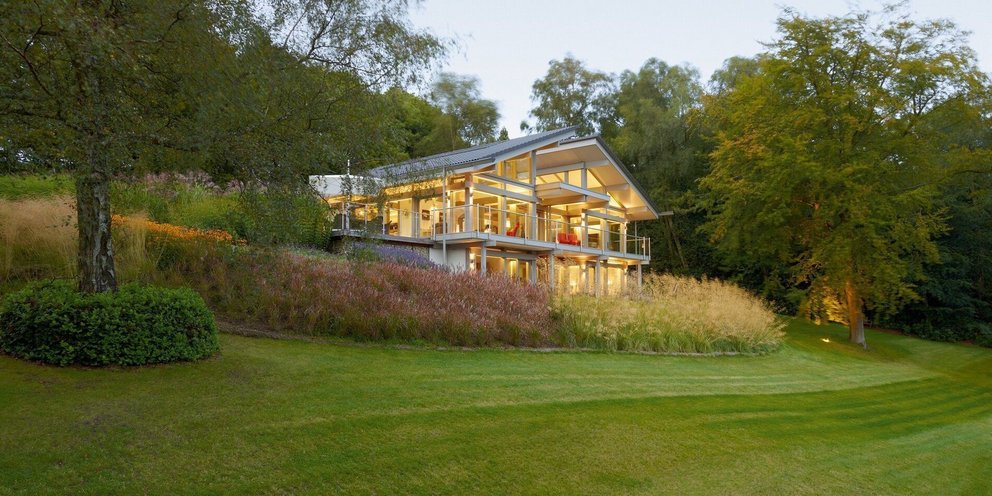 Welcome to HUF HAUS Dublin!
Beauty, quality and sustainability – what more could you look for in your dream house?
Perhaps you'd also like spacious, open plan, flexible living spaces, certainty of price, speed of delivery and a confirmed finish date for your light-filled, turn key ready home? In fact, why would you accept anything less?

Working with our architect, your HUF house is an individual project; it is planned and built to suit you and your family. Designed here in Ireland by our Irish partner architects, the award-winning and RIAI registered Denis Byrne Architects, built in Germany in the Huf factory, delivered to site and constructed by Huf specialists - ensuring the highest quality with every single design detail. The entire process is uncomplicated, swift and stress-free.

Put simply, HUF HAUS builds high quality, energy efficient, unique wood and glass houses, whose signature timber post and beam structure removes the need for load bearing walls, thus allowing tremendous design flexibility. So many adjectives - but as Kevin McCloud said, while watching one being built on his Grand Designs TV programme "if Mercedes built houses this is how they would do it"…

Meeting us here in the Irish office and looking at the website will give you a certain amount of information and initiate the project, but if you are seriously considering a Huf Haus home we recommend a visit to the six model homes in our show house village and factory in Hartenfels, Germany. Here you will experience for yourself what we mean by building in harmony with nature, quality and comfort.
We look forward to working with you.
Maggie Moran and Denis Byrne
About Denis Byrne Architects:

Denis Byrne Architects is a Dublin-based design practice producing contemporary architectural works of quality.

Founded by Denis in 1998 and since that time the practice has grown steadily. Our work may be seen on both urban and rural award-winning construction projects, from the 'Cigar Box' apartments and offices in Dublin city centre to the 'House in the Field' in the rolling landscape of the Midlands to the Bord Gais Networks building at the city's edge.

The scope of projects has broadened considerably to include master planning, landscape design, urban design, exhibition design, interpretative planning, furniture and interior design – all pursued within the parameters of larger environmental and social concerns. In all projects, of fundamental importance to us is the proper placement of the new construction within the social and physical character of a given context and the careful consideration of the art and craft of its making.
We strive to harness appropriate modern technologies and sound design principles to the eternal qualities of light and space to produce a humane architecture of depth and significance.
HUF HAUS Dublin
26 North Great George's Street
D01 EP68 Dublin
Ireland

+353 1 8788535
dublin@huf-haus.com
What would you like to do next?