Great Joy in Wood and Glass
The unique HUF HAUS architecture combines traditional design with the latest technology to create bespoke state-of-the-art homes. The sophisticated, intricate and uncompromising quality characteristics of the HUF HAUS post-and-beam home are imbedded in every square inch of the HUF Tiny House. The HUF Tiny House concept is the optimal room of requirement; be it a Home Office, Wellness Retreat, Gym, Hideaway, or just a little Home from Home. Create your own luxury space to accommodate your very unique wants and wishes. Like all HUF Houses, the HUF Tiny Home is produced under the same roof and watchful eye of specialists at HUF HAUS HQ, Hartenfels.
Our team of engineers and craftsmen guarantee consistent quality and attention to detail in the production of each of our builds. Thanks to our high grade of prefabrication, the turnkey Tiny House, with a design capacity of up to 50 square meters, is installed with all electrical, plumbing and internal 'Fit out'. With final checks complete, the house makes its journey to you and is erected on site by the specialist HUF assembly team.
Your turnkey Tiny House, a tranquil space with inspiring views - to work from home or to relax in your own wellness oasis.
Construction
turnkey HUF HAUS post-and-beam construction in timber and glass
characteristic roof overhangs
quality-assured and thermally insulating triple glazing
highly energy-efficient external walls
modern entrance threshold (preparation for barrier-free access)
Fit Out
high-quality bathroom appliances
large selection of modern floor coverings
motorised external aluminium blinds
solid front door
HUF HAUS hand-crafted internal doors
sophisticated internal and external render
Furniture (as described in project sample)
Technology
heating system for cooling and heating
on-demand ventilation system with air-quality sensors
electrical wiring throughout
Architect and Engineering Services
planning application (if required)
CAD drawings
detailed working drawings
project management
structural calculations
Project-related detailed planning
heating installation
electrical installation
ventilation concepts
construction supervision/documentation
Floor slab & Roof
insulated steel floor slab
thermally insulated flat roof
Individual Furniture Concepts
A HUF Tiny House provides freedom and flexibility – though in a compact envelope. Smaller spaces require ingenious minds for the furniture and every surplus square inch is skillfully used for storage and function. This skill is impressively demonstrated by the expert StilART furniture designers who considered the tiniest details in the Tiny House – to be enjoyed to the maximum by its owners and occupants.
Whether in one of the illustrated examples or in your very own bespoke Tiny House design, we can design and install the most custom, clever and often surprising furniture solutions for you. With emphasis on precise craftmanship and on the uncompromised quality of the materials selected.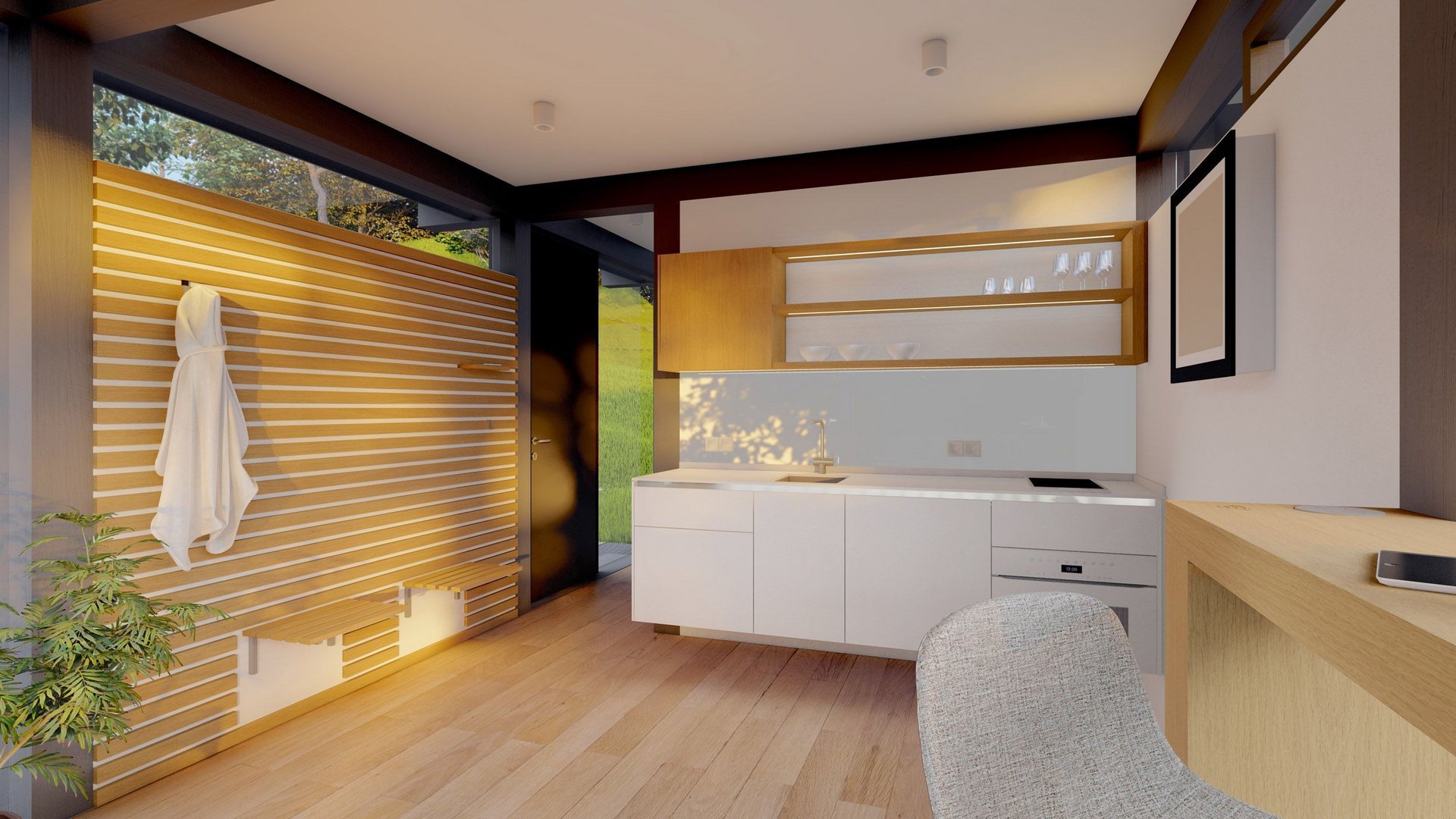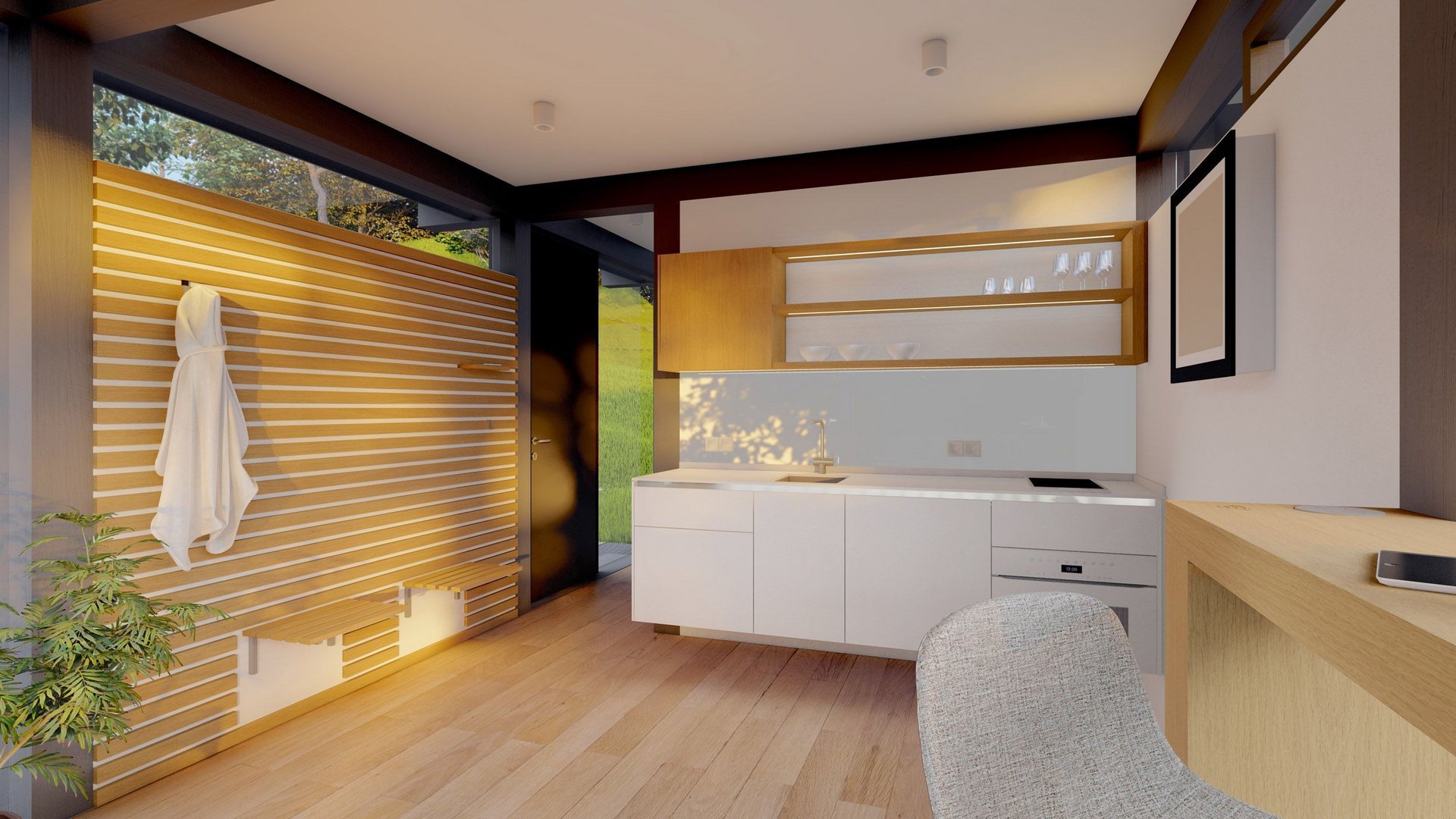 The oak-paneled wall, which also serves as stylish wardrobe, shelf and folding seat.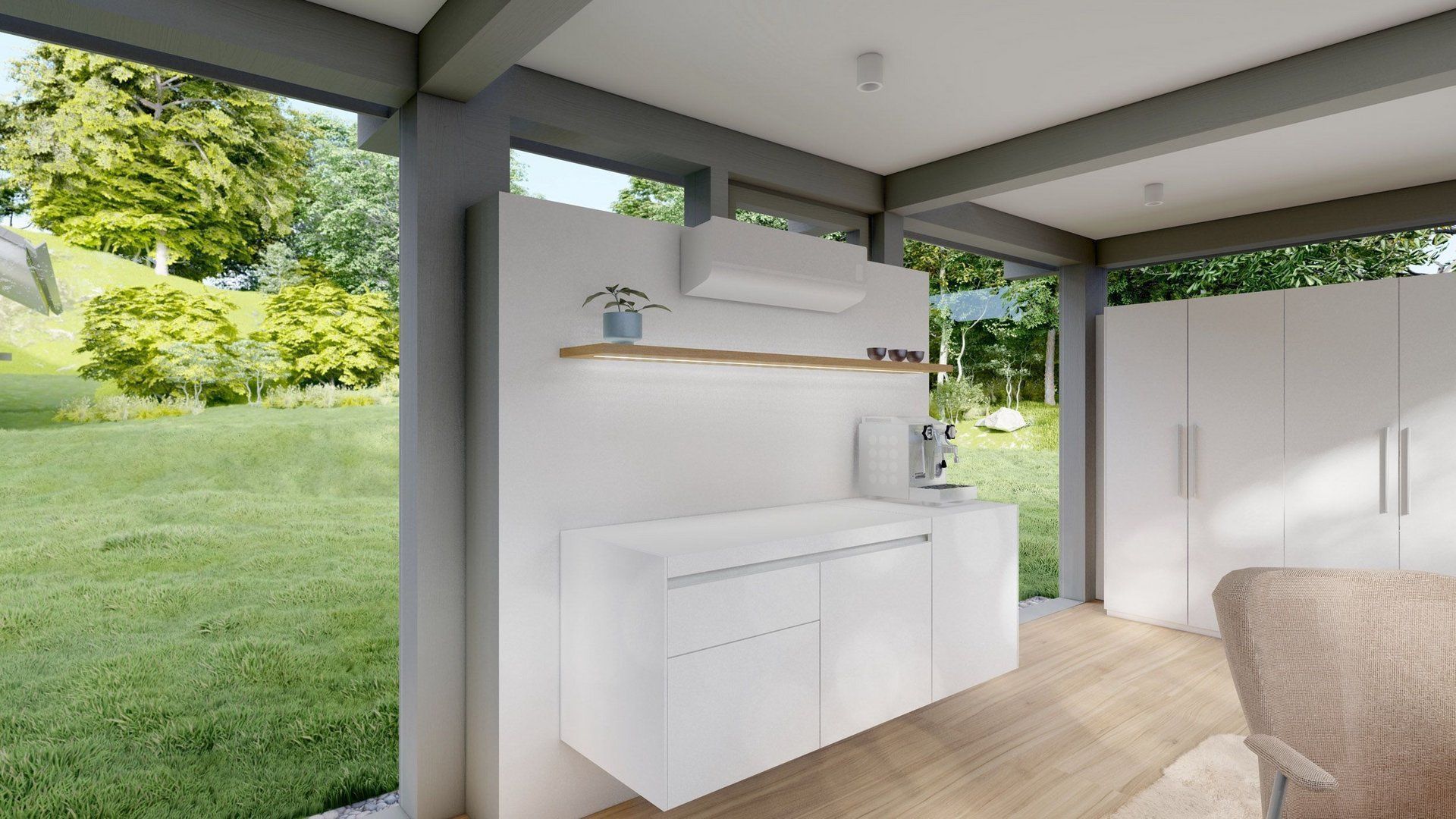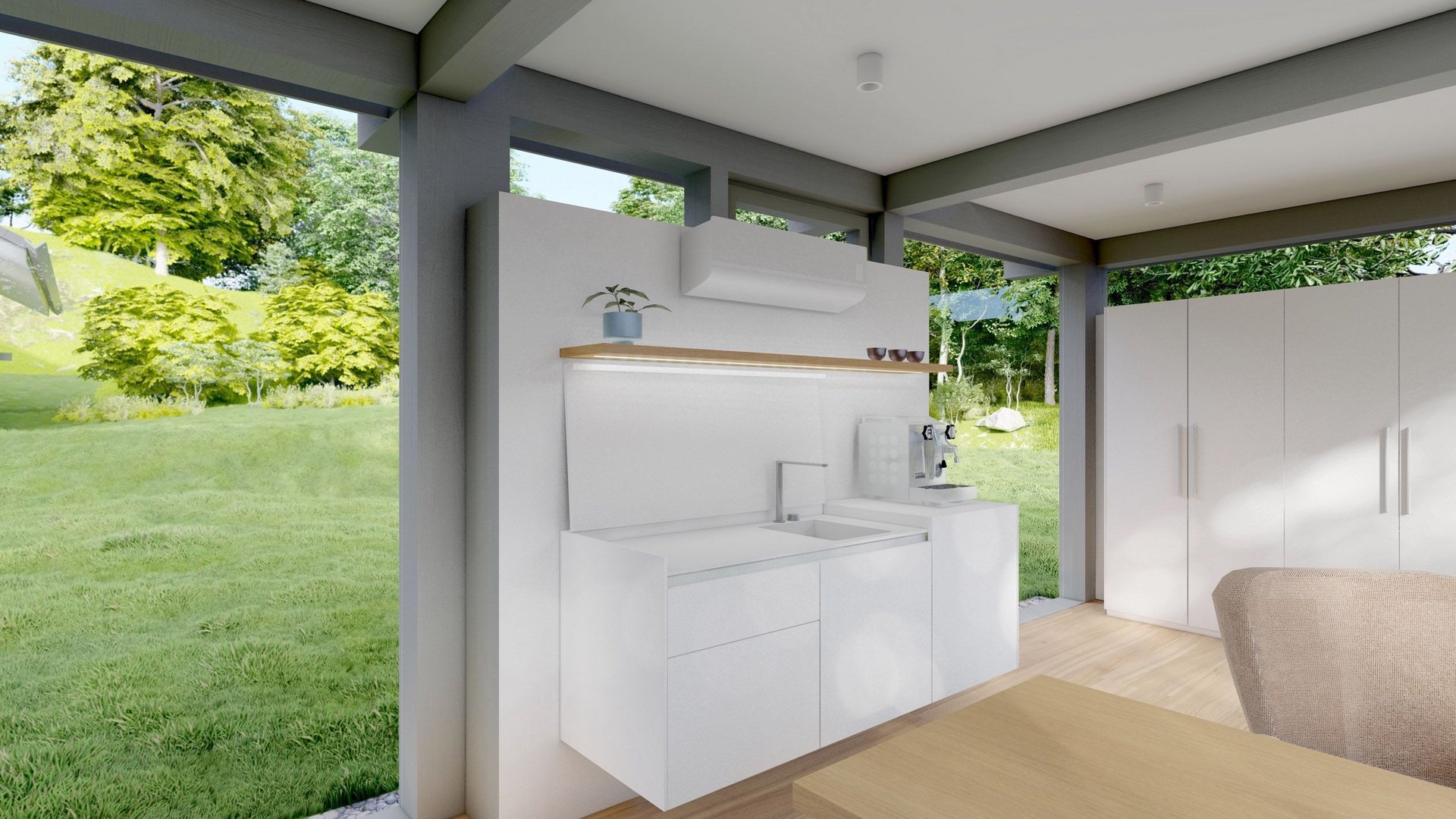 A clever foldable countertop creates additional space whenever needed.
It is not all about design – equally important is quality! Regardless of the compact measurements the standards in quality HUF HAUS set themselves for the Tiny House concept are at the same high level as their big brothers and sisters, the iconic HUF Houses!
Wood as a renewable and climate-friendly raw material is the characteristic feature of the post-and-beam architecture and impresses with its positive product properties. Furthermore, oxygen-measuring sensors guarantee the best possible air quality inside.

As a matter of principle, only non-chemical or harmful products are used at HUF HAUS.

Examples of HUF Quality Features:
premanufacture of all construction parts using high-precision CNC machines, for the highest achievable level of accuracy
construction in the HUF HAUS production halls under ideal conditions and under the most stringent quality control
use of healthy building materials in premium quality
excellent thermal insulation thanks to solid wall construction and triple glazing
extensive efforts to provide sustainable constructive wood protection