Environmental Responsibility & Sustainability
How do we implement environmental responsibility and sustainability at HUF HAUS? What makes our architecture so unique?
Sustainability is not an unknown territory for HUF HAUS – in fact it is HUF HAUS' driving factor. Regardless of current climate debates or new trends that often do not go the distance, a green mentality has always been a priority value of the HUF HAUS philosophy. With a company history spanning over 111 years, our actions today are formed from the experience gained over all our yesterdays.
1985 HUF HAUS was a founding member of the "German Construction Biology Committee". Franz Huf, Senior CEO, was also chairman of the "Building Biology" working group for many years.
HUF HAUS is a respected member of numerous leading committees investing into pioneering research and work into sustainability and climate protection. As a member of the German Prefabricated Building Quality Association (QDF) and the German Sustainable Building Council (DGNB), our production facilities and assembly processes are regularly and meticulously audited by independent inspectors and surveyors.
Therefore, not only do we promise quality and environmentally conscious standards - but we also certifiably guarantee them.
HUF HAUS ensure that the environmental concepts applied will benefit the house for its entire life cycle. Remaining true to the company's motto from 1985: "Build naturally, live healthily."
Every HUF HAUS project quali­fies for the German Sustainable Building Council (DGNB)'s Gold Award as standard.
CO₂ balance
non-toxic building material
Healthy and fresh air indoors
Light and lighting comfort
Room accoustics and sound insulation
Comfort control
Quality in design and layout
Accessibility
Energy efficiency
Environmental impact of all materials used
Design and sustainability in harmony
The characteristic HUF HAUS post-and-beam architecture offers large expanses of glass to create the perfect viewpoint of the surrounding nature in all its glory. But does transparency and openness go hand in hand with the strict requirements for energy-efficient and environmentally friendly living?
Yes! As a result of complex construction methods, highest-grade material quality and continuous research and development, each HUF house is highly energy-efficient and exceptionally beneficial to live in. From the initial ordering of supplies all the way through to the handover of the house, the indoor air quality plays a major role in our material selection process. At the heart of our construction are our materials – all tested and certified as environmentally friendly.
But wood as a renewable resource is the unrivalled star of the show – in all disciplines.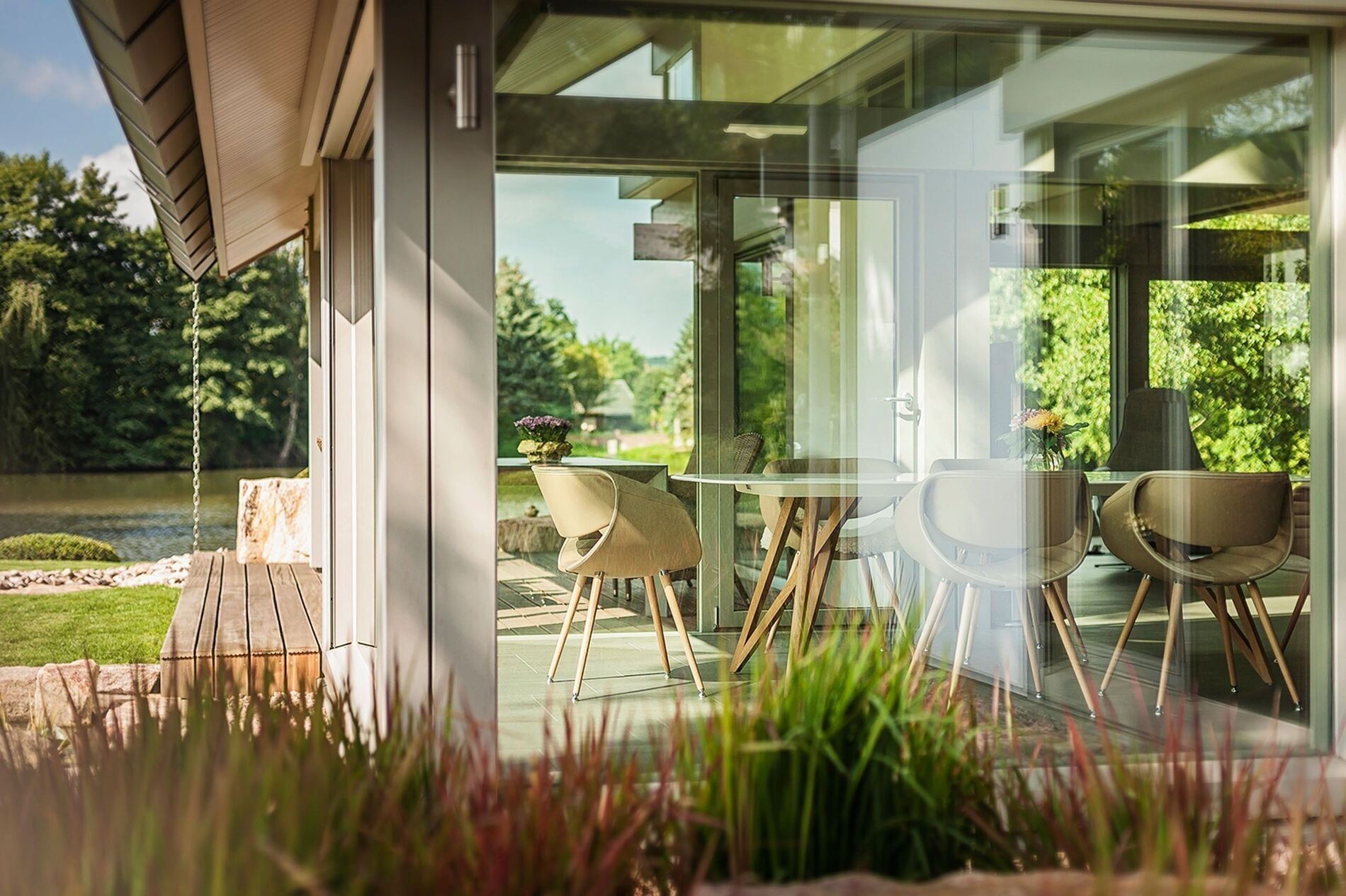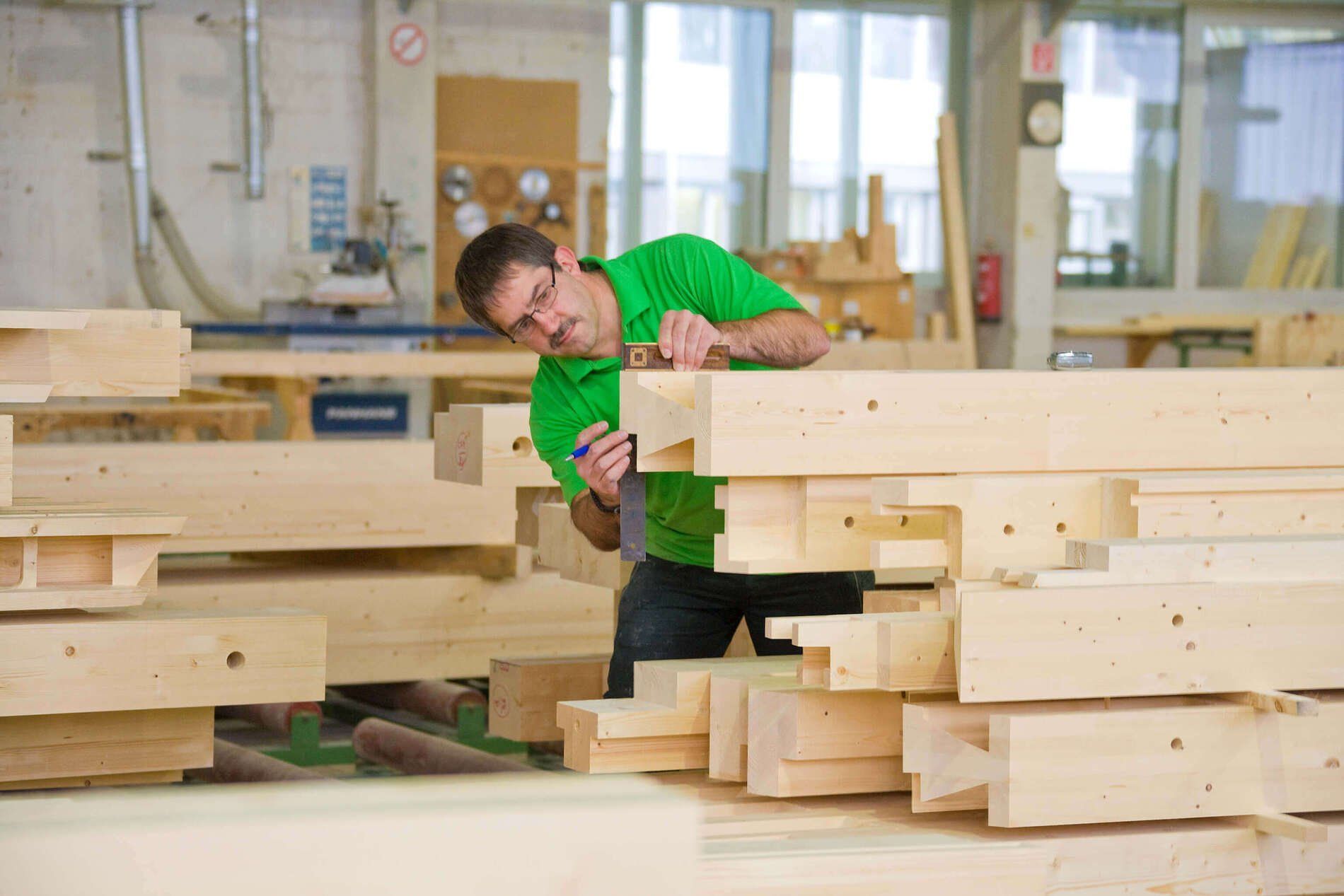 "Wood is only a one-syllable word, yet it reveals a world of beauty and wonder" This statement by a former German President, Theodor Heuss, aptly describing the renewable and climate-friendly raw material. Wood is a main component of the distinguished HUF HAUS post-and-beam architecture, and wood is so versatile thanks to its wide scope of applications and positive product features, especially the capture of carbon.
HUF HAUS work exclusively with Nordic Spruce timber, thus enabling us to meet our standards in high quality and long-lasting construction. The particularly weather-resistant Spruce is dried by controlled methods and subsequently glue-laminated in narrow layers. The slat thickness of 33 mm represents the highest quality class available on the market.
An environmentally friendly and water-based wood stain is specially formulated and produced for HUF HAUS - conforming to the strictest of industry guidelines. Thanks to a unique surface treatment applied in our quality-controlled production facilities, all timber components are protected before they leave the factory - an enormous advantage during assembly on site and their live beyond!
For many decades we have championed The Comprehensive Timber Protection Concept – one-of-a-kind within the industry. This particular method of construction ensures the longevity of our wood. Load bearing timber posts and panels are located inside the house and therefore protected from the weather. The exterior timber construction is structurally separated from the internal construction.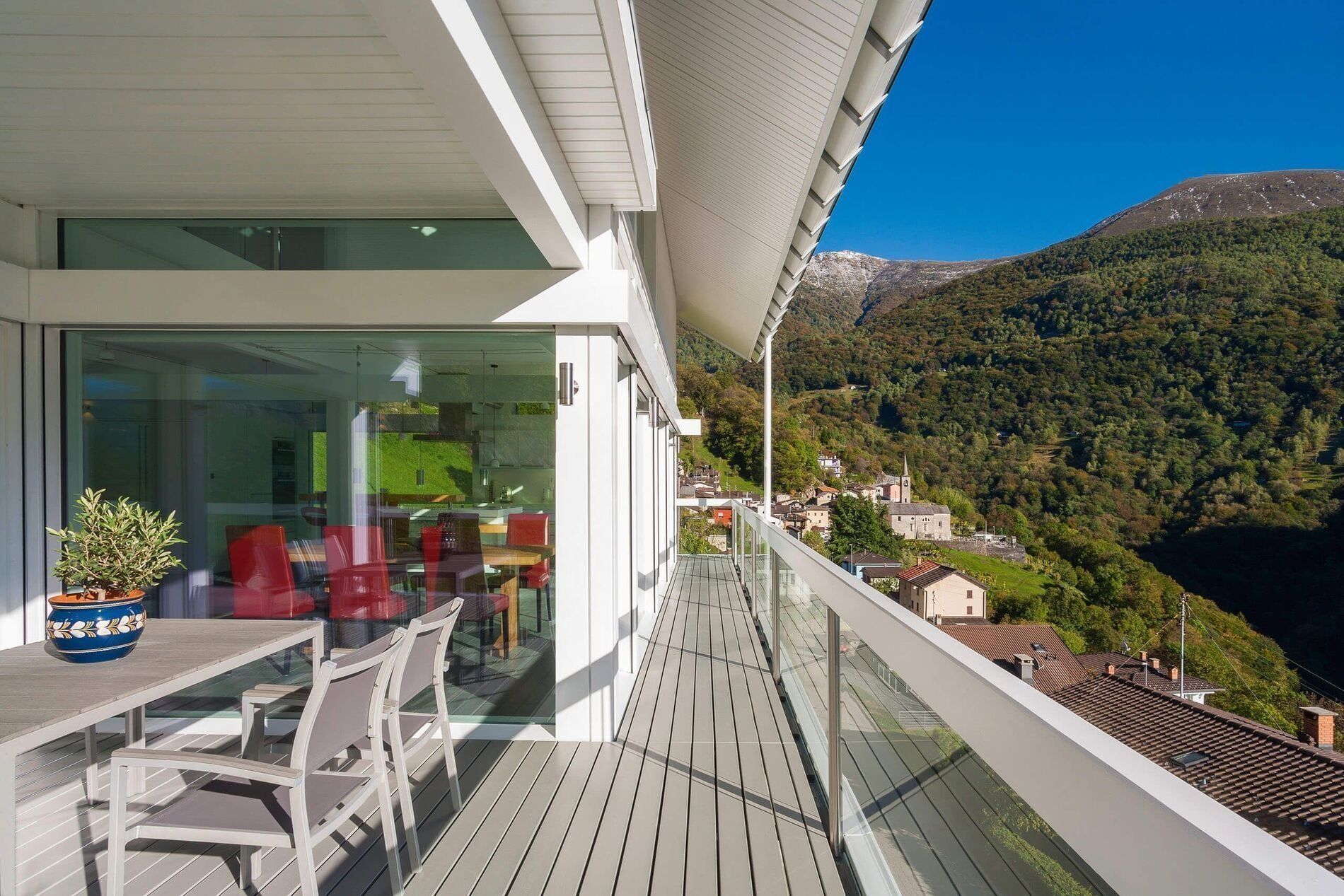 As a pioneer in the field of wood preservation, we were the first post-and-beam company within the construction industry to undergo thorough additional audit testing in 2016. The result, and comprehensive expert opinion of specialist Dipl.-Ing. Borimir Radovic, speaks for itself: "Construction details of the HUF houses shown ensure compliance with the requirements of the current DIN 68800-2 for wood preservation. Part 2: Preventive structural measures in building construction with innovative detailed solutions and exemplary results."
The large expanses of glass panels of the HUF HAUS architecture provide special quality-assured thermal insulation with triple glazing. Glass as a recyclable material can be processed repeatedly into new products via a melting. A thoroughly sustainable material, and perfectly coupled with our post-and-beam timber construction.
The hallmark style of the HUF HAUS architecture with impressive glass façades has established a transparent collective of homes with incredible U-Values of 0.5 W/m²K (German DIN EN 673).
From 15 June 2022, the limiting U-Value (for SAP calculation method) for new-built houses in the UK was set at 1.6W/m²K.
Therefore the glass with its U-Value of 0.5W/m²K incorporated into the HUF HAUS construction represents an efficiency factor more than three times better than the UK building regulations require.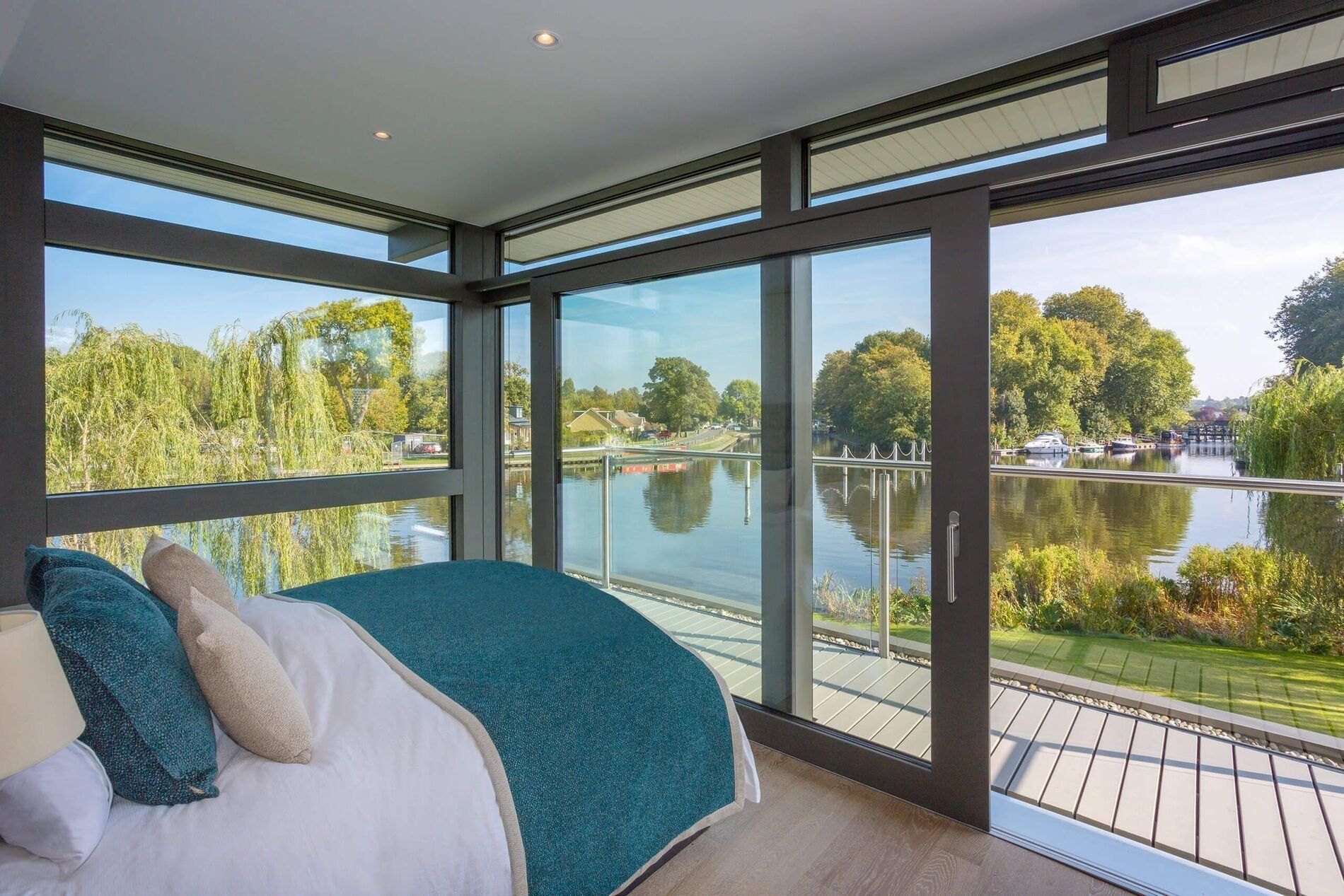 All HUF houses are equipped with renewable energy systems, including air-water heat pumps as standard. The environmentally friendly concepts also include advice on the subject of plus-energy houses with photovoltaic and solar systems, which we are happy to plan for your house on request.
Modern systems such as the ice storage heating system are tested and used in our own projects!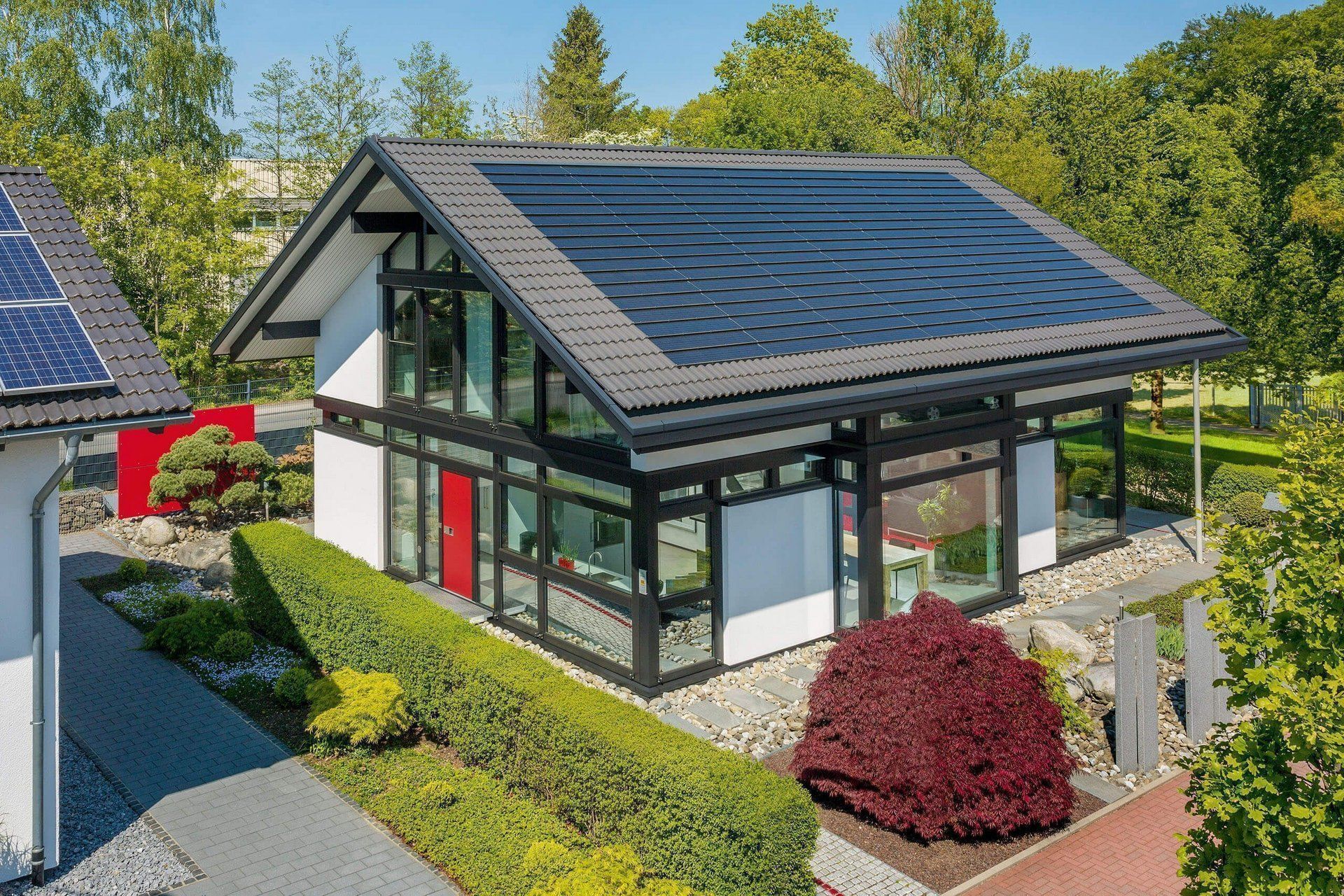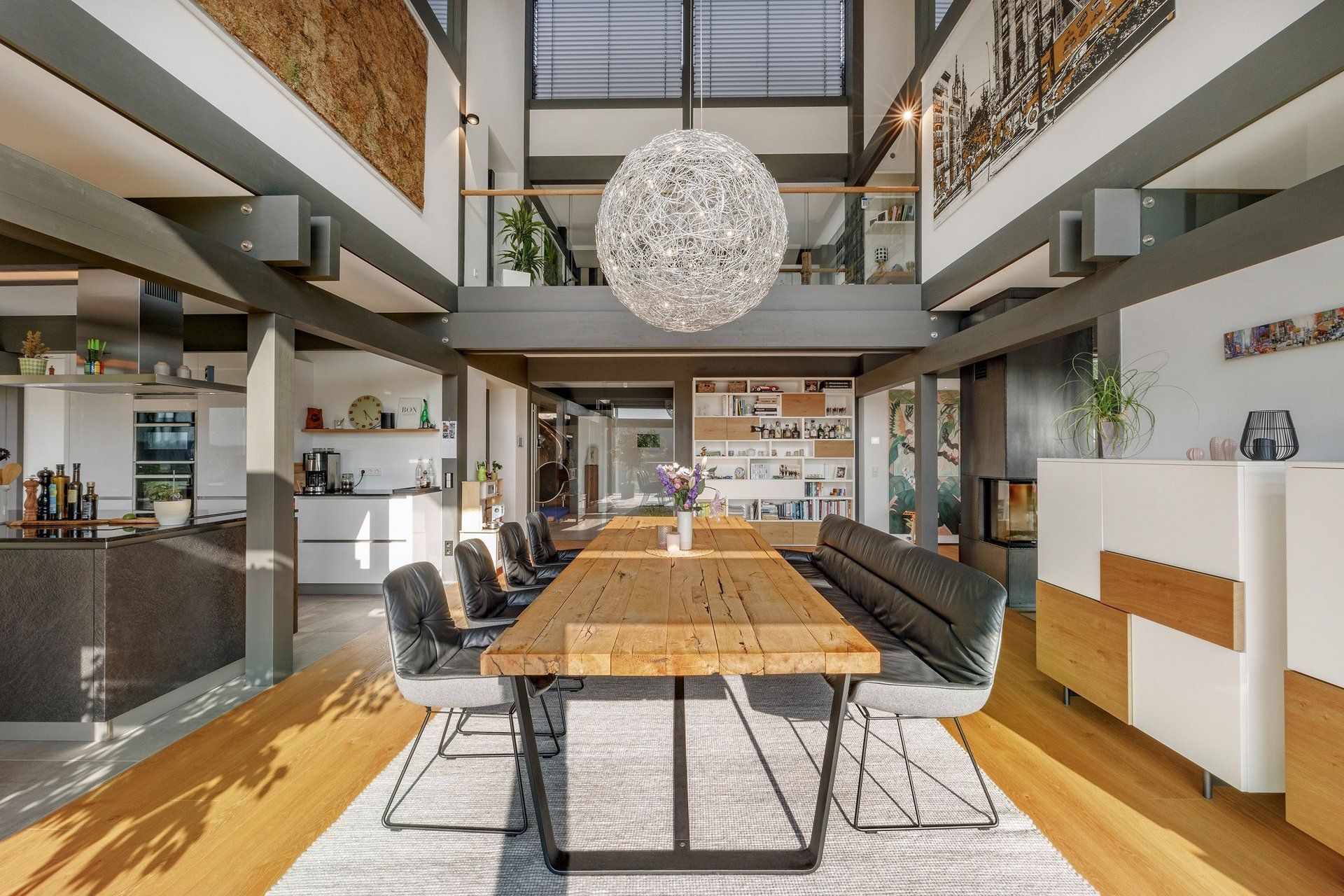 Upon completion of the house and its subsequent assembly on site, the next step is to commence with the healthy living interiors. Thanks to our 'HUF group of companies', we are able to fully coordinate all processes of the home from start to finish. This one-stop service guarantees to our clients a relaxed construction phase and the highest level of quality control.
Fresh air inside the house, free from pollutants and toxins, is a significant factor for healthy living. The DGNB certificate verifies the consistent use of building materials with reduced pollutants, from floor adhesives to wall paint, ensuring emission-free surfaces.
HUF HAUS exclusively use emission-tested building materials for all interior finishes. We have the following requirements regarding the pollutant emission conduct of building materials:
Emission-tested: according to the Committee for Health-related Evaluation of Building Products (AgBB).
Exclusion of hazardous substances
ToxProof: buildings tested for harmful substances by TÜV Rheinland
Eurofins: testing of safety requirements and product quality by Eurofins
Blue Angel: eco-label for particularly environmentally friendly products
The air in our houses is measured and checked for pollution by volatile organic compounds (VOC) and formaldehyde, for you to breathe easy! Upon request the avoidance of electric smog can also be incorporated into the design of your house. Through cable-shielding of electrical installations or special protection against external electric smog, such as high voltage and mobile phone masts.
Lower CO₂ emission for additional environmental protection
What about the CO₂ footprint of our houses? Maintaining low emissions during the production and construction phase of the house is crucial in supporting our climate protection goals. This same emphasis is placed on ensuring low emissions throughout the entire life cycle of the house.
The production of each house takes place at the HUF headquarters in Hartenfels, Germany to maintain highest quality standards and to reduce the CO₂ footprint to a minimum. Photovoltaic panels installed on the roof of our production facilities supply the building and all machinery with green electricity.
Most of suppliers are based locally within the region, creating short delivery routes and avoiding unnecessary pollutant emissions. Through long-term relationships with our suppliers, we guarantee a sustainable and reliable supply chain.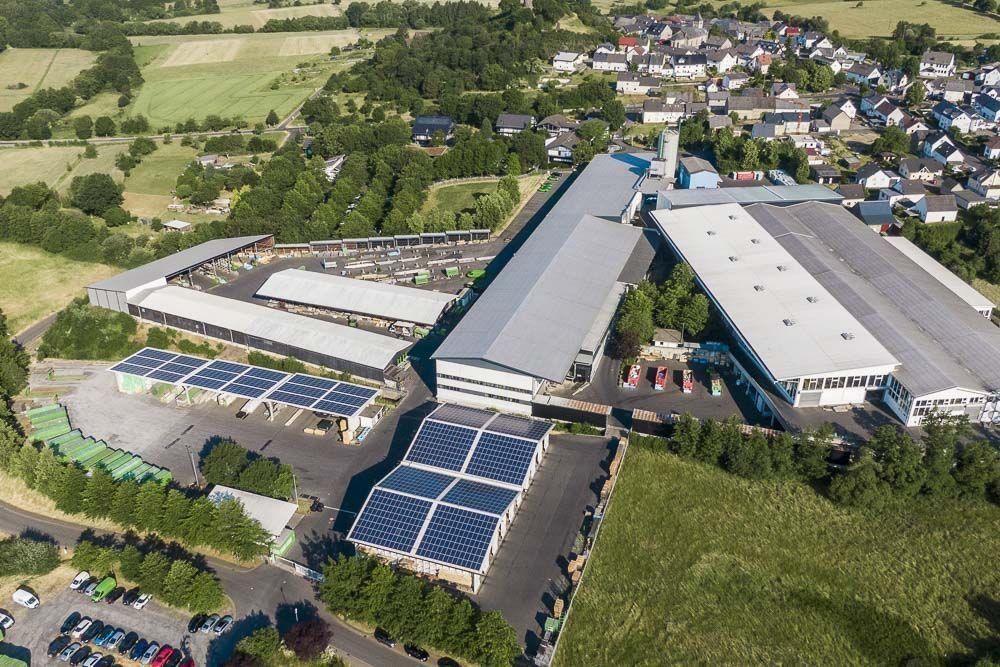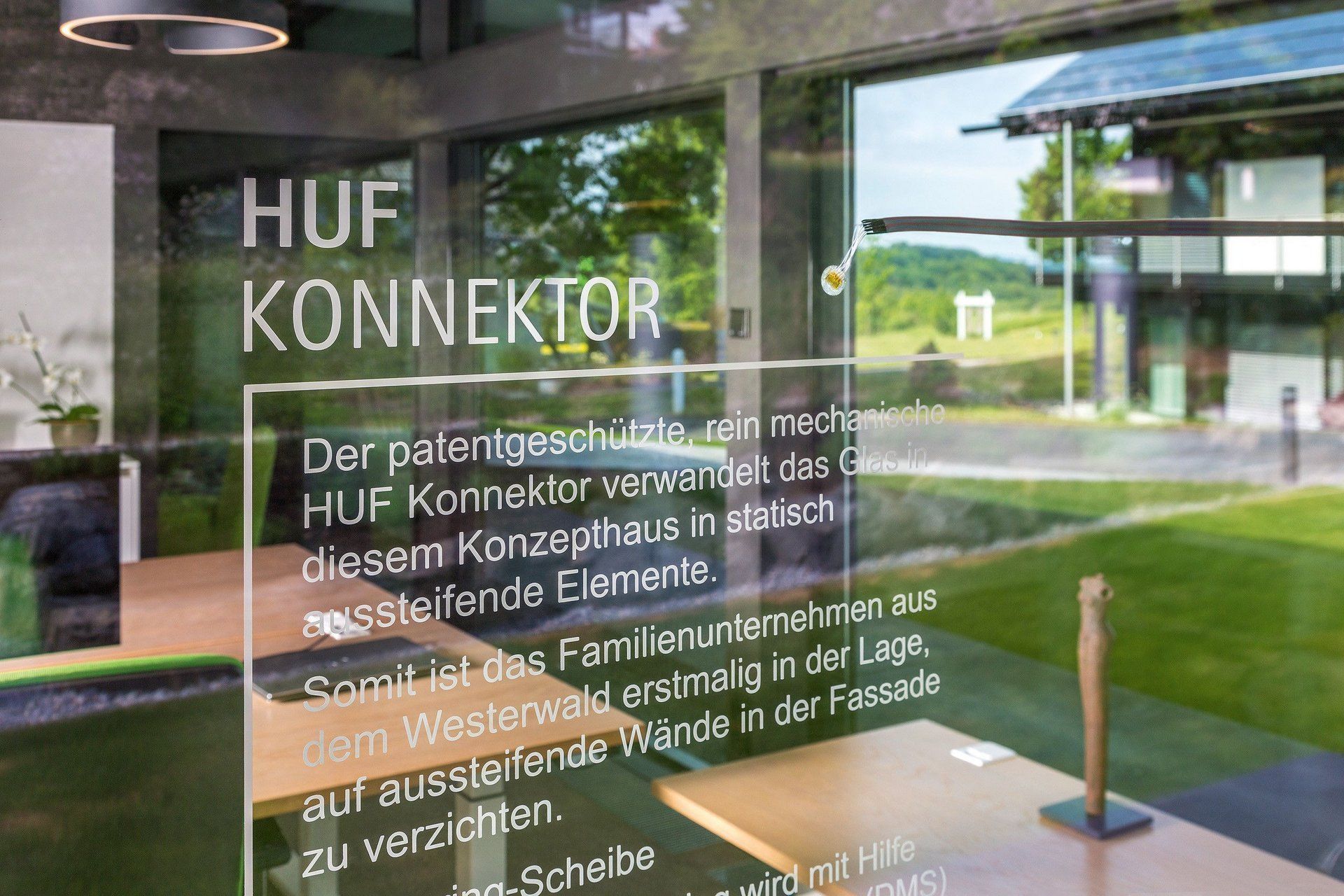 All components used in production are processed and reused in an environmentally friendly way. The construction of our post-and-beam houses allows to separate the individual layers of material and return them into the recycling process.
HUF HAUS specialists in the R&D department developed a patent for structural glass – without adhesives - as a load-bearing element within the construction. Strengthening the glass to load-bearing capacity reduces the requirements for steel frames within the building, and improving our carbon footprint further. The savings per year amount to an estimated 123 tonnes of CO₂.