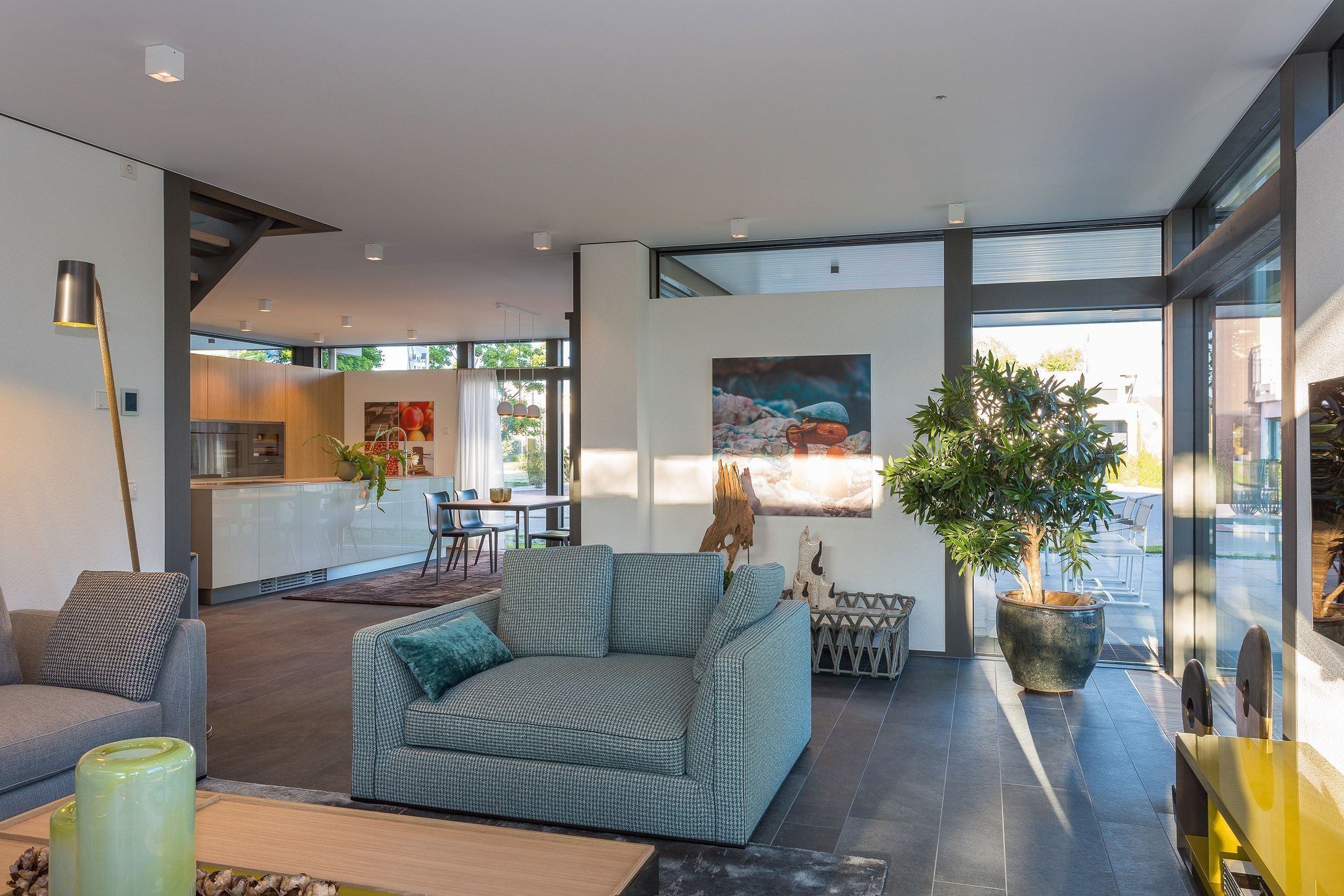 The clear design of the HUF houses, with a structure based on the teachings of the Bauhaus school, gives their occupants a framework for an open and airy home that's in harmony with nature. Needless to say, with such a simple and open-plan design, each house will require a special touch to make it unique.

It's clear that it's the home owner who sets the style.
1. A preference for certain things is vital!
If, say, you have a preference for a particular style of art, that's a clear sign of the direction you should take. The art will set the tone. See, for example, our show house in Zurich, Switzerland or in Mannheim, Germany. The colour palette used in the home should follow from the art. After all, that shows who's in charge. So let's stick with the question of art and our specific example. The art connects all of the open-plan spaces. We are provided with a generous and unified colour palette, which creates a smooth transition between the various spaces. Any demarcation – that is, if you want one – should be created skillfully using furniture. Only in this way will it be clear where you are right now and where you want to go.
3. Lights and action!
Nothing will ever look quite right if the lighting is wrong. That's why the issue of "lighting design" plays a key role in our homes. Using lighting, you can both create your style and delineate spaces, by planning for and implementing different light scenarios. The shutter systems used as standard in HUF's houses enable light levels to be controlled even in very bright daylight conditions. The adjustability of the blinds therefore allows sunlight and shade to be controlled even in the daytime.
4. Feel that spark!
If you see an artist's work, whether he or she's a painter or a photographer, and you feel a spark, then you're halfway there. Even in your head, you can already start to style your home. Right way, you can allocate the artworks, furniture, photographs and accessories on display to the various rooms, creating a brand-new holistic design concept. Even black-and-white photographs with just a few dashes of colour or particular accessories can play a key role in a clever interior design.
5. Embrace colour, individuality and change
A room should always be a neutral shell for those living within it. After all, they are the people who will fill the room – and the whole home – with life. So if you love Asian style, show this in your interior design choices. And if you have an old heirloom, for instance an old piece of furniture or a rug, then go ahead and showcase it! If, however, you're a little uncertain about your choices, feel free to visit a (HUF) show home for guidance…